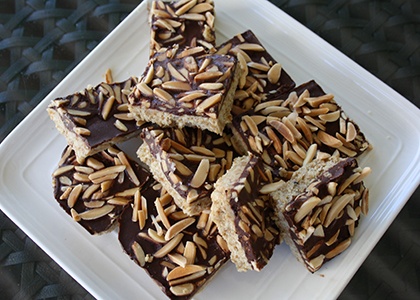 All of your favorite no-bake ingredients have joined together for the ultimate recipe. This is a great treat or light afternoon snack for kids and big kids! These bars are easy and nutritious as they are high in fiber, vitamins, minerals and healthy fats! As I was taking the photos, 2 little hands reached out and took off with the squares, so clearly they were a hit.
INGREDIENTS
Coconut Almond Base:

1 ¼ (75 g) cups shredded coconut


1/2 cup (125 ml) coconut oil melted

1 cup (100 g) almond meal

3/4 cup (75 g) flaxseed meal

1/4 cup (60 ml) maple syrup

2 tsp vanilla extract

pinch of sea salt

Chocolate Layer:

1/3 cup (80 ml) coconut oil melted


1/2 cup (50 g) cacao powder

2 tbsp maple syrup

Almond Topping:

3/4 cup (85 g) slivered almonds

DIRECTIONS
Preheat oven to 360 F (180 C).


Place slivered almonds evenly on a baking tray and toast in the oven for 7 minutes.

Line a rectangular slice tin 7″x11″ with baking paper or foil.

Combine coconut almond base ingredients until mixed well then press the mixture into the tin firmly and chill for 1 hour.

Mix the chocolate layer ingredients then pour over the chilled coconut almond base and spread evenly. Then sprinkle the toasted almonds over the top and chill for 30 minutes.

Cut into 24 pieces and store in the fridge or freezer in an airtight container.

SUBSTITUTIONS
Almond meal – walnuts pecans hazelnuts brazil nuts


Linseed meal – chia meal

Maple syrup – rice syrup honey

Coconut oil – grass-fed organic ghee

Nutrition per serving:
| | |
| --- | --- |
| Calories | 200 |
| Fat | 17g |
| Saturated Fat | 10g |
| Cholesterol | 0mg |
| Sodium | 30mg |
| Carbohydrates | 9g |
| Fiber | 4g |
| Sugars | 4g |
| Protein | 4g |

Yields and nutritional information are estimated and will vary depending on produce size and equipment used.

Original Article : Rebootwithjoe