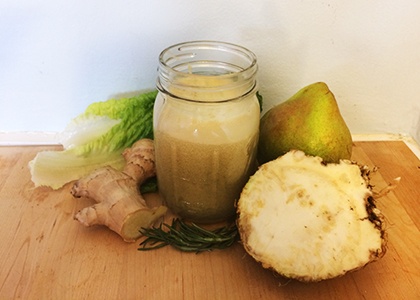 Help your immune system by making time for sleep and exercise, keeping stress in check, limiting alcohol and sweets, and of course loading up on those veggies and fruits. Fruits and vegetables contain natural, anti-inflammatory, immune supportive properties. This winter wonderland juice is fresh, crisp and full of good stuff. Fresh herbs like rosemary contain phytonutrients credited with reducing inflammation and helping skin. Ginger is known as a potent root with inflammation, nausea and potentially cholesterol-reducing capabilities. Celery root is loaded with electrolytes like calcium, magnesium, potassium and even natural sodium. Pair with pear's antioxidants and you've got a winter juice that's sure to taste great and help keep you feeling energized. If you're in the southern hemisphere, you can find celery and apples to replace the celery root and pears to make this juice.
INGREDIENTS
2 celery roots (celeriac)


1 inch (2.5 cm) piece of ginger

1 pear

6 leaves romaine

2 sprigs rosemary

DIRECTIONS
Wash all produce well.


Juice rosemary with stem on wrapping around celery root or pear to get most yield.

Juice all ingredients.
Enjoy!

SUBSTITUTIONS
Celery root – fennel – celery – jicama


Ginger – lemon – lime – turmeric

Pear – granny smith apple

Romaine – spinach – kale – lettuce

Rosemary – sage – basil

Nutrition per serving:

Yields and nutritional information are estimated and will vary depending on produce size and equipment used.

Original Article : Rebootwithjoe