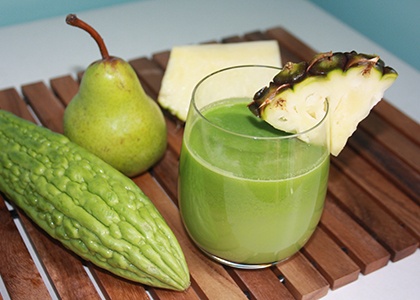 If you haven't tried bitter melon yet, now is a good time! Especially around the holidays. This is a vegetable that is often overlooked by many westerners as it's a commonly consumed vegetable in many Asian countries. If you can't find it in your local store, try looking in an Asian market. It is also known as bitter gourd and is often used in stir-fry dishes, stews, soups and can also be juiced and blended into a smoothie. Be aware it can be an acquired taste and can be quite bitter (as the name suggests) so pairing it with a sweet fruit is a good idea. It offers an array of health benefits particularly for weight loss, blood sugar support and insulin resistance. Bitter melon is often found in herbal weight loss formulas, so why not consume it naturally?
Note: Don't consume bitter melon while pregnant or breastfeeding.
INGREDIENTS
½ – 1 small bitter melon


¼ pineapple

1 pear

2 celery sticks

1 lemon

DIRECTIONS
Wash all produce well.


Remove the skin from the pineapple.

Cut the bitter melon in half longway scoop out the seeds and white flesh with a spoon and juice the outer green of the bitter melon.

All all produce through juicer and enjoy!

SUBSTITUTIONS
Bitter melon – cucumber – grapefruit – winter melon


Pineapple – apple – green melon

Pear – apple – orange

Celery – cucumber – zucchin – chard (silverbeet)

Lemon – grapefruit – lime

Nutrition per serving:

Yields and nutritional information are estimated and will vary depending on produce size and equipment used.

Original Article : Rebootwithjoe