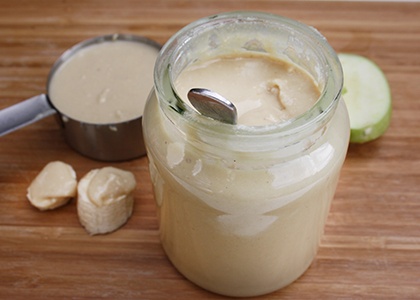 I decided to combine a mix of all of my favorite nut butters together into one for this recipe. It's so easy to make a good homemade nut butter without unnecessary ingredients such as vegetable oil, excess salt, added sugar, preservatives and poor quality nuts.
Rancid nuts may be used with loads of extras added to cover up the rancidity of the nuts. So to make it easy just make your own. It can also be much cheaper.
Some nut butters can also have other food additives that are now added including dairy by-products. This is the ingredient list of a new range of nut butters – VEGETABLE OIL, MALTODEXTRIN (FROM CORN), CASHEWS (25%), MILK SOLIDS, SUGAR, EMULSIFIERS (471, 322), SALT, OTHER TREE NUTS.
You don't need any of those to enjoy a delicious nut butter!
INGREDIENTS
1 cup (150 g) cashews


1 cup (150 g) macadamia nuts

1 cup (150 g) peanuts

2 tbsp macadamia oil

¼ tsp sea salt

1 tbsp maple syrup

DIRECTIONS
First step is optional. You can either slightly roast the nuts in the oven for 5 – 7 minutes at 350 F (180 C) or you can used activated nuts or use raw.


Add the nuts to a high speed blender or food processer and blend until a smooth consistency starts to form.

Then add the remaining ingredients and blend till the desired consistency forms.

Store in an airtight container in the fridge.

Note: This will keep for up to 3 months.

SUBSTITUTIONS
Nuts – pecan .. almonds .. brazil nuts .. walnuts .. hazelnuts


Macadamia oil – coconut oil

Maple syrup – rice malt .. honey

Nutrition per serving:
| | |
| --- | --- |
| Calories | 100 |
| Fat | 8g |
| Saturated Fat | 1g |
| Cholesterol | 0mg |
| Sodium | 20mg |
| Carbohydrates | 3g |
| Fiber | 1g |
| Sugars | 1g |
| Protein | 2g |

Yields and nutritional information are estimated and will vary depending on produce size and equipment used.

Original Article : Rebootwithjoe