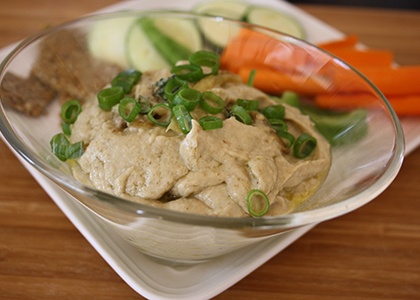 Who doesn't love a delicious dip? They are so easy to make and the perfect addition to a party. You can use the leftovers to add to a salad or enjoy as your own healthy snack. In this dip, I used roasted eggplant as the main ingredient. Eggplants have many healthy properties such as polyphenols which have been found to exhibit anti-cancer effects, and anthocyanins and chlorogenic acid that function as antioxidants and anti-inflammatory compounds. These help to protect the cells from damage caused by free radicals and in turn prevent cancer development and cell damage. These nutrients are predominantly found in the skin so leave the skin intact in this dip to increase its nutrient profile.
INGREDIENTS
4 eggplants


4 garlic cloves – unpeeled

2 tbsp tahini

2 tbsp lemon juice

3 tbsp olive oil

sea salt and pepper – to taste

1 scallion – chopped for garnish

DIRECTIONS
Preheat oven to 350 F (180 C) and line a baking tray with baking paper.


Cut the eggplants lengthwise and rub oil on the cut side and lay face down in tray.

Place unpeeled garlic cloves on the tray and bake the eggplant and garlic for 35-40 minutes or until tender.

Once cooked allow to cool then scoop out the flesh of the eggplant and place into a blender squeeze out the garlic from the peel into a blender then add the tahini lemon juice and olive oil and blend. Add salt and pepper to taste.

Garnish with scallions and serve with vegetable sticks and/or dehydrated crackers.

Store in an air-tight container for up to 5 days.

SUBSTITUTIONS
Eggplant – zucchini – peppers


Tahini – olive oil

Olive oil – avocado oil

Nutrition per serving:
| | |
| --- | --- |
| Calories | 180 |
| Fat | 10g |
| Saturated Fat | 1.5g |
| Cholesterol | 0mg |
| Sodium | 140mg |
| Carbohydrates | 23g |
| Fiber | 13g |
| Sugars | 9g |
| Protein | 5g |

Yields and nutritional information are estimated and will vary depending on produce size and equipment used.

Original Article : Rebootwithjoe